In the modern-day and age, the biggest concern for people is their health, as the number of diseases is growing alarmingly. The main reason for that is lack of physical movement, which has made exercising a very critical job.
And it's not easy to go outside and exercise all the time, and that's why exercise bikes are getting so popular these days. But can you tell how to make exercise bike seat more comfortable which will lead you to a richer and more fulfilling workout experience?
It's not that difficult to do, and it definitely helps you stick to your workout regimen more efficiently.
Let's take a look at 6 awesome ways on how to your exercise bike seat comfortable that you can use right away.
What Makes the Seat Uncomfortable?
There are a few reasons that are causing all the discomfort up your bike seat, and these are pretty common among riders as well. Before you move on to the ideas to make exercise bike seat more comfortable, it's critical to have an idea of what's causing the issues in the first place. 
Most pain and strain on your back is caused by alignment and adjustment issues. If you don't get it right, it's more likely to make the seat hard to sit on, which is not something you want.
However, you should know that after a few days, your body starts to adapt to the seat adjustment, and it's going to cause you less and less pain eventually. But, it's not a great idea to do that as it can cause some permanent health issues that can lead to pretty serious injuries as well.
So, you should never leave it that way for long, and do everything you need to do to fix the seat. Now that you know the reasons that make the seat uncomfortable to sit on, let's check out 6 of the ways to make your exercise bike seat more comfortable. Also, you can check my recent guide about how to make a bike seat cushion here.
Set up Your Bike Properly
If you feel uncomfortable sitting on your exercise bike seat, the first thing that you should do is to set up your bike properly. In most cases, that'll help to solve all the issues right away, and you won't have to do anything else.
Another great thing about this method is that you don't need to spend any money to fix that, which is pretty amazing.
First of all, you need to make sure that your legs can support your body weight on the exercise bike. For that, you'll have to adjust the height and the angles of your bike saddle. This is one of the most vital things that you need to do before you even try out anything else with your bike.
To adjust the height, you can use any popular methods that you easily find on the internet. Just make sure to go for whatever feels the most comfortable for you. A great tip, in that case, would be to be super slow and precise with your adjustments and count by every millimeter.
For the angle of the saddle, you must get it correctly as well. If it's too low, it'll be very slippery to stay on top of the seat, and if it's too high, it'll cause you pain. You need to balance the angle and the tilt properly and make sure to go for whatever feels natural to you. You can try to stick with a position for a couple of days to see if it works, and then you can adjust it accordingly.
Also, the handlebars should be placed somewhere higher for your exercise bike. That helps to give you more balance and control over your movements, making the seat more comfortable for you.
Padded Shorts
It's no secret that padded shorts are a requirement if you want to get maximum comfort on your exercise bike. You can definitely finish your workout using a regular pair of shorts, and that's something most people do. However, a padded pair of shorts provide exceptional comfort and stretchiness that's super useful for long periods.
If you are thinking about getting a pair of padded shorts for your exercise bike, make sure to go for a gel-based one. That'll give you the maximum comfort that you crave without compromising the durability, which is super helpful.
Foam padded shorts, on the other hand, are a much cheaper alternative, but the build quality is not that good. They are not super comfortable or provide longevity like gel padded shorts. That's why it's a far better option to get a gel-padded short for skyrocketing the comfort level of your workouts on the exercise bike.
So, if you are concerned about how to make exercise bike seat more comfortable, you must try having good quality padding short as it can do wonders. Let's review one of the best pairs of padded shorts that is available out there, and it's undoubtedly the best value for your money as well.
Beroy Women's Bike Shorts with 3D Gel
Beroy has some of the best ranges of exercise bike shorts that you can get for yourself. This women's bike seat is the best selling bike by Beroy. These are super comfortable on your skin, durable, and affordable as well.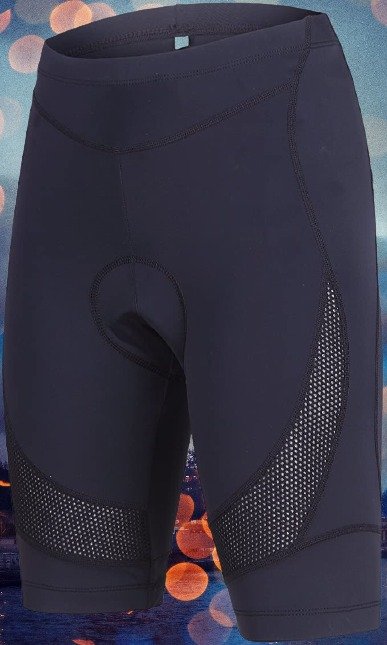 These bike shorts give a better scratch for your fit, which lets you get a perfect fit. It's super soft and comfortable on your body as well, and you can wear it all day without feeling any kind of irritation or itchiness, which is great.
So, if you are thinking about getting yourself a pair of bike shots that'll give better comfort and breathablity, this is undoubtley a solid option to consider.
Pros
Provides great stretch
Super comfortable on the body
Very affordable
Cons
Doesn't provide much warmth
Use Chamois Cream
A subtle but serious issue while working out on your exercise bike can be caused by the friction that's created by your back and the bike saddle. That might seem like a very tiny matter, but that can make the whole thing very irritating for you.
The best solution to remove such friction is to use a bit of Chamois cream on the saddle. However, it's important to know that it's super easy to overuse this product, and you don't need to put a lot of it on the saddle. That'll be a complete waste, which will even make a mess on the saddle that you don't want.
So, take a nickel size of Chamois cream on your finger and apply it directly to the exercise bike saddle. That'll reduce the friction pretty efficiently, and you won't have to deal with that irritation anymore.
Buy a Padded Seat Cover
If you are searching for the most surefire way on how to make stationary bike seat more comfortable, you can try buying a new padded seat cover for your bike. That might seem like an unnecessary waste of money, but you might get surprised by the results you get with the new seat cover.
However, you must consider getting a good quality one, that's made of a gel-based pad. That is far better than foam materials as it provides exceptional longevity while offering incredible comfort.
Also, you don't need to spend too much money on a seat cover, and you can go for any mid-ranged product in that case. Just be sure to check the reviews before you put your money on the table as it can tell you a lot about how the cover is going to be for your bike seat.
Take a Shower after Workout
It might be pretty hard for you to take a shower every time after an intense workout on your exercise bike, but it's mandatory to do so. It'll help to remove all the germs and sweat from your body, and it also takes out the uncomfortable feeling and makes you fresh for the day.
So, make sure to get a good shower after each workout on your exercise bike. Although it's not connected to making your bike seat comfortable, that's something worth mentioning that most people forget to do.
Be Consistent
If you are a beginner and you're feeling pain in your back every time you're working out on your exercise bike, you might just need to give it some time before it all becomes natural to you.
As mentioned earlier in the article, our body adapts to the adjustments. And as working out on your exercise bike might be a completely new thing to you, you need to give it a bit of time to get comfortable. So, be patient with your workout, and keep doing it regularly. Hopefully, it'll all be very comfortable for you in no time.
When it's about comfort the seat selection is the first priority. If you are thinking to get a safe bike seat for your child, you can check my recent review about the safest bike seat for a child to make a wise decision.
Additional Tips
Now that you know how to make an exercise bike seat more comfortable, you can do your workout better and easier without feeling the pain in your back. Let's check out some additional tips that'll make your exercise bike seat even more comfortable for you.
Always follow the instructor's instructions when it comes to a workout regiment.
Be sure to do a maintenance check up often to see if everything is as it should be and your bike is in perfect order or not.
Give your body time to adjust to the exercise bike when just starting out.
If you are feeling severe pain in your back, don't delay going to a specialist for checkups. It might save you from further permanent injuries, which is critical.
To Wrap Up
These were 6 of the ways on how to make exercise bike seat more comfortable that you can use to make your workout experience so much better. These are pretty simple, but can permanently change the way you feel doing the long workout sessions.
Some of them require you to spend some money to purchase the parts or products you need to be able to use in some of the methods. However, it's super worthwhile as it'll make your exercise bike very comfortable for you, which is very important in the long run.