Cycling is one of the most fun and engaging activities to do in your free time. But if you are a biker and you're just starting out on a bike, you probably have felt discomfort on your seat as it's a very common issue.
So, have you asked yourself, "How to make my bike seat more comfortable so that you can ride it for longer without any pain in your back?"
Well, it's not that hard to do, and if you know the right methods, you can enjoy a much more pleasurable ride yourself.
To help you make your bike seat more comfortable, let's check out some of the reasons for discomfort up your ride and how to fix these issues.
Why Your Bike Seat is Uncomfortable?
You can go on and learn different tricks and hacks to make your seat more comfortable. But it's not going to be anywhere near effective, and you must identify what's making your seat uncomfortable in the first place.
Luckily, these are pretty common issues that most people face, and if you see that you are facing an identical issue, then it's going to be much easier for you to fix it. Your bike seat might be uncomfortable as the following issues play a big role in that case.
Wrong Bike Sizing
Improper handlebar alignment
Too high/low seat position
The wrong angle of the seat
Using a low-quality saddle
These are most of the common issues that cause discomfort in your bike seat, and that's true for most riders. Now that you know what to look for, it's going to be much easier for you to solve the issue.

Some of them are quick and easy fixes, and some require you to spend some money or take the bike to the professional. Let's check out how to make your bike seat more comfortable by fixing these common issues so that you can have a more comfortable riding experience.
Bike Sizing
The bike sizing can have one of the biggest impacts on making the seat feel both comfortable or uncomfortable. You might have seen that bikes are categorized by size, and labeled for adults, young adults, or kids. This is a universal thing, and you must get it correct in the first place if you want to ride your bike comfortably.
If you've got the basic sizing wrong, there's nothing you can do to make your seat feel comfortable. You can't ride a bike that's designed for kids and expect to ride it comfortably. That's just too important that you get the sizing correct before you choose to move on to anything else.
To do that, you need to take a look at the size chart of the bike and try to figure out which one is perfect for you. In most cases, asking an associate will do the trick as he'll be more than happy to help you out on that and give you a chance to try the bike out. And that way you can get a feel of the bike for real, and that'll tell you if it's the right size for you or not.
Types of saddles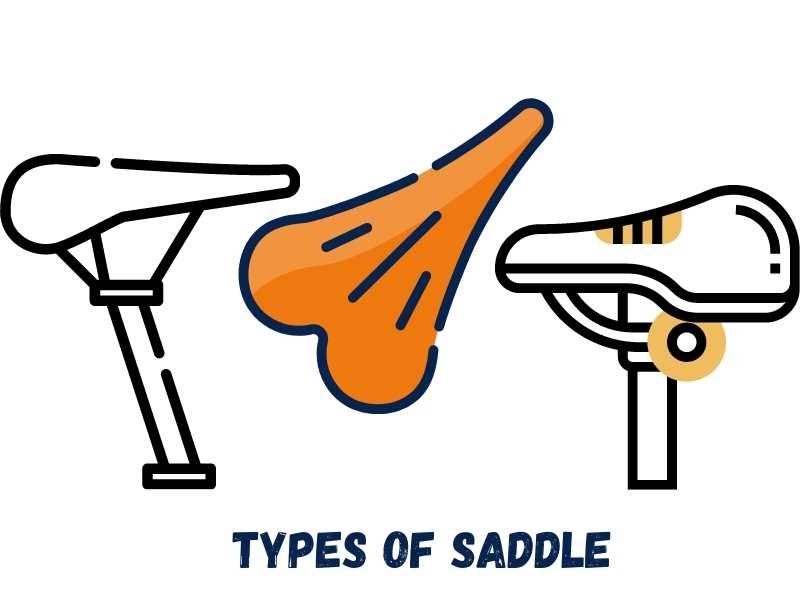 A good solution to the question "How to make my bike seat more comfortable so that it doesn't hurt to sit on the seat for longer to enjoy a better bike riding experience?" for you would be to replace the current saddle with a new and more comfortable saddle. You need to take note that there's a lot of different types and option when it comes to saddle, and each has its own benefits and drawbacks.
There are saddles especially designed for racing, comfort, cruising, and other purposes as well. All of these come with a different purpose, and that's why the build quality and features are very different as well.
However, if you want to get the most comfort out of your and your child's bike seat, you must consider getting the right saddle for you. You should know that there are gender-specific saddles available out there as well, and you must consider them accordingly.
As you are looking for a saddle that's going to give you the most comfort, you should go for a saddle that has better cushioning. That'll ensure a better comfortable seat on your bike, and you'll start to see the results immediately. Not to mention, riding for a long time is going to be much easier and pleasant for you as well.
So, make sure to do some basic research on all the saddle types, and pick the one that suits you the best. If you need comfortable bike seats, both for you and your infant, you should go for comfort saddles by all means, and that'll be the best option for you.
Improper handlebar alignment
Improper handlebar alignment is a critical issue that causes so much discomfort up your seat. You should know that the seat is actually not designed to carry the whole weight of your body, which most people don't know anything about that. A seat actually helps to support your back and make the whole mechanism of the bike work together to hold your full body weight.
But if your bike has a faulty handlebar alignment, it can be a huge reason why it's being super uncomfortable in the seat. However, you should never try to mess with the handlebar of your bike and try to fix it all by yourself. That's a big mistake that most beginners make and that can actually lead to bigger issues.
That's why it's actually the best idea to take the bike to a professional to repair it. He has the right tools and knows what to do with your bike. That way, you can just hand him over this job, and by the time he's finished, you'll get the perfectly aligned handlebar on your bike. It's definitely a bit of a costly option for you, but trust me, it'll pay off big time.
Too high/low seat position
The seat position is an obvious thing that can have a huge impact on the comfort level of your as well as your baby bike seat, and you must consider fixing it properly. A seat that's too low or high can cause serious discomfort in your back, and it can lead to serious injuries as well.
That's because our bodies adapt to the posture we stay in most often, and if you adapt to the defective seat position, it's going to cause constant back pains. And as time goes on, it might cause permanent issues, which you really don't want to happen.
However, the good news is that the fix is pretty simple, and you can do it all by yourself as well. Just use any of the effective methods that you find online and get a good placement for your bike seat. And by fixing the seat height, it's going to make your seat much more comfortable for you. Also, it will ensure your and your child's safety on the seat, which is most important.
The Wrong Angle of the Seat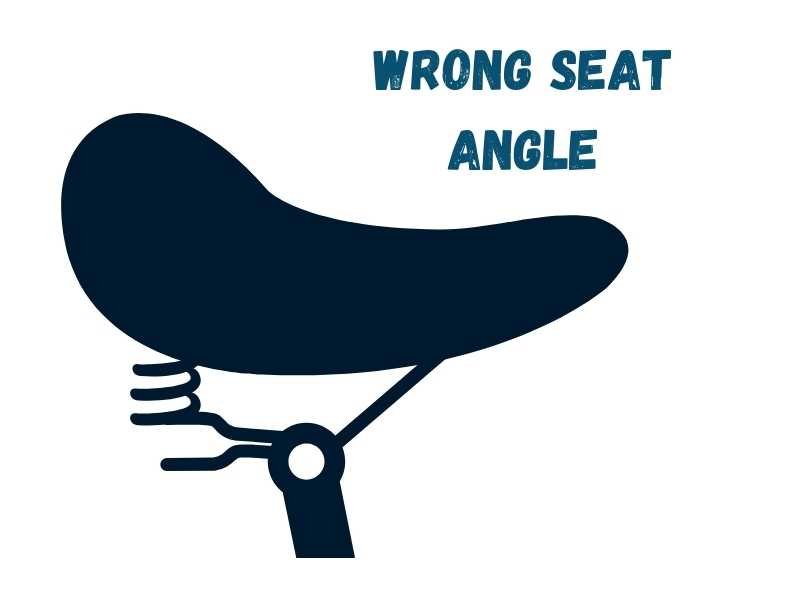 Another subtle issue that's causing a lot of discomforts in your seat is the wrong angle of your seat. That's not that easy to figure out if it's not that noticeable, but it can cause discomfort.
A seat that is tilted too low can be hard to sit on, and if the tilt is too high, it's going to hurt your back sitting on the seat. So, it's critical to get a good balance in the tilt, and that way you can be comfortable on your seat.
You can adjust the seat ever so slightly to figure out an angle of tilt that feels natural. Make sure to take your time, and try out every time you adjust the angle. That's the best way to get the most efficiency out of your time, and you should always abide by that rule.
The Quality of the Seat
It's no secret that using a lower quality seat will make it super comfortable for you to ride the bike. You must get a good quality bike seat to be able to enjoy the amazing riding experience with your bike.
However, spending a lot of money to get the most expensive seat won't guarantee comfort in your ride. And to be honest, most of the super highly-priced seats don't even live up to their price tag and are a complete waste of your money.
So, it's very important to understand your field of requirement in a bike seat and consider all the features that you want in your bike seat before you put your money on the table for it. You must consider the type of materials, the customer reviews, and all the other things before buying a bike seat. Another most important thing is safety. Because sometimes you can think to give an awesome riding experience to your family and you must want to do it with maximum safety. So, try to make sure that the seat is safe or not.
But you might have noticed that there are hundreds, if not thousands of saddles available out there that claim to be the #1 comfortable seat for your bike. So, how do you know which one will give you the best value for your money and better than the rest?
To help you in that case, we've selected the #1 bike seat that you can get that ensures maximum comfort without compromising durability. Let's check out a quick product review down below so that you get a better view of this amazing bike seat.
BLUEWIND Dual Shock Absorbing Bike Seat
If you're searching for a great quality bike seat, Bluewind has some of the best ranges of seats for you. This seat by Bluewind is their best selling bike seat, and it's undoubtedly the perfect one to get for your money as well. It's super cozy on the back, has a pretty soft cushion, and helps to give you a richer and more comfortable riding experience without any issue.
It's also built to last you a very long time, and that way you won't have to worry about wasting money on getting replacements. Also, it's very easy to install, which makes it a very hassle-free seat for your bike.
So, if you'd like to get a comfortable bike seat that's super user friendly and doesn't cost you a lot, this is truly a great option for you. It has all the premium specs and features that make it the best value for your money without any doubt.
Pros
Provides extreme comfort
Incredible longevity
Best value for your money
Cons
To Wrap Up
Now you should have a pretty decent idea about the question, "How to make my bike seat more comfortable?" and you can tell the obvious reasons behind it. As you saw, it's actually not that difficult to do if you know the right methods for it.
However, some of the methods do require you to spend some money to get the fix. But you should know that it's a very worthwhile investment, and you should go for it by all means. That way you can enjoy a much more pleasant ride on your bike, and you'll get the magical outside experience that you crave.