The most common issue for bikers is the pain and numbness of sitting on the seat for longer. That's typically caused by the misalignment of the sit bones on the saddle, and that can lead to such pain, irritation, and numbness.
Once you get the sit bone measurements right, riding your bike is so much more pleasant and you won't feel any pain even after a long period.
But do you know where should sit bones be on saddle so that it doesn't hurt as you sit through your ride?
To help you find out, let's go over the ergonomics explanation of a bike saddle that'll help you fix all of your issues.
Things Determining Where Should Sit Bones be on Saddle For A Biker
There is no one thing that can tell the exact placement where your sit bones should be on the saddle, which makes sense. A lot of things come into play, and you need to consider every single one of them if you want to find out the sweet spot for your sit bones. Let's check out some of the things that determine your perfect sit bone placement on the saddle.
The Pelvic Bone
The pelvic bone is right in between your genitals and your backside area, and it's critical for you to understand the placement of your pelvic bone to sit comfortably on the saddle.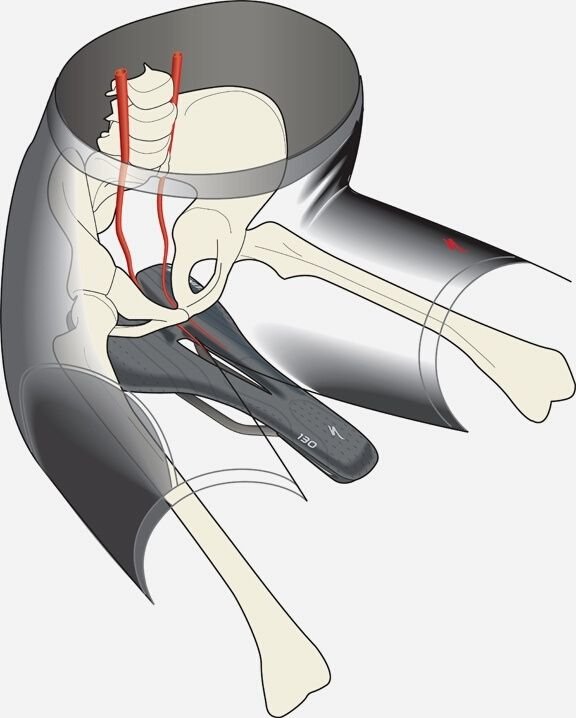 It's recommended that you put an arch on the pelvic muscles to reduce some pressure off of this place. That's because this area is much more sensitive and receptive to feeling pain, and you must pay a bit more attention to this area as well.
The sitting position
Probably the most important aspect of sitting comfortably on the bike seat is the sitting potion. It influences the comfort level, and you should definitely spend time figuring out the right posture and sitting position to be able to find the best placement for the sit bones.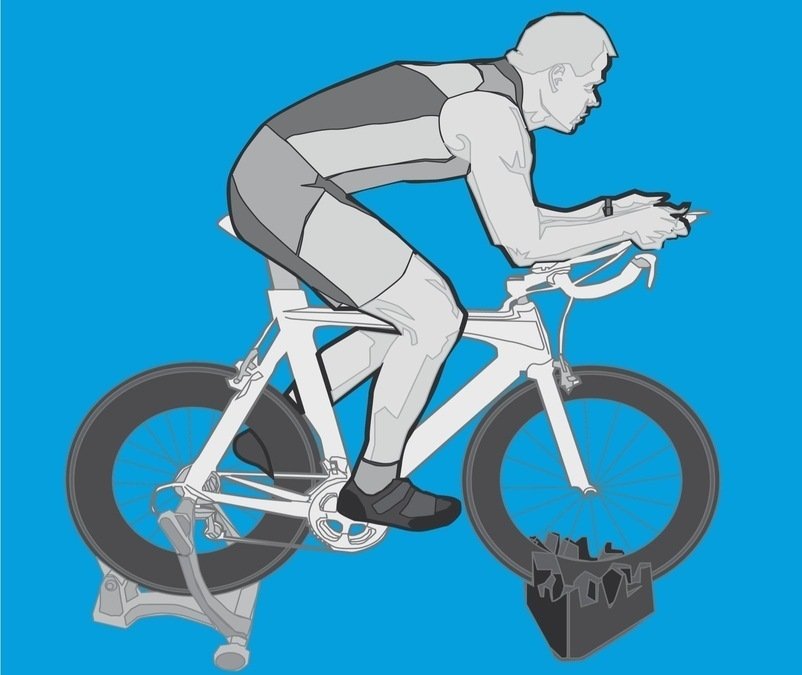 You should aim for a somewhat upright sitting position as it allows for some pressure relief off of the pelvic area. That will help you sit on the saddle for super long without feeling any pain in the backside. So, while you are checking where you can place your sit bones for a comfortable ride, be sure to spend some time getting comfortable with the sitting position.
Men & Women Bike Saddle Geometry
No one can deny the fact that the bike saddle geometry for men and women is very different, and without having a good idea about it you can't get a comfortable sit bone placement.
There are different saddles available in the market specially designed for either males or females, and that's obviously for a reason. Women's pelvic bones are situated lower, and they need to fluctuate as well to be able to give birth, which makes it important to pick the right type of saddle to avoid any pain. So, it's best to pick according to your gender, and that way you are much more likely to get the perfect fit for your case.
A Too Soft Saddle
A soft saddle is super comfortable to ride on, and many riders can't really ride their bikes for a long period without it. However, there is a thing called "A Too Soft Saddle" that exists, and you should not fall for that trap.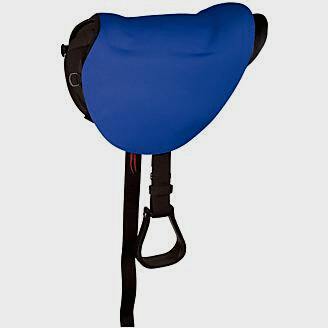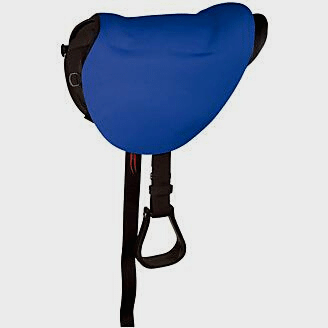 When a saddle is too soft, it causes a lot of problems that you must tackle. For instance, most riders tend to feel super uncomfortable after riding a saddle that's too soft after 30 to 40 minutes, and that's a serious issue.
So, you should aim for a somewhat soft saddle that's well balanced, and that way you can ride your bike for longer without that pain or irritation.
Prostate problems
If you want to avoid any prostate problems, you must elevate as much pressure as you can from that area, and that'll save you from such issues. However, if you've developed any prostate problem over time, it's recommended that you see a specialist to do medical checkups and treat yourself. Whatever you do, you should never overlook the symptoms or leave anything unchecked as it can cause serious issues in the future.
Proper Seat Alignments
It's super important to get the seat alignment correctly before your body starts to adopt the current positions that might not be ideal for your posture.
You need to get the seat height and angle correct, and there are a lot of methods that you can find that'll help you find the correct measurements. These methods are available online, and you can pick any one of these to fix your seat alignment, which will make the ride much more comfortable for you.
Quality Plays a Big Role
Getting all the measurements correct won't help you get the best results if you don't pick a good quality bike saddle. That's simply too important to have right if you want to enjoy the best possible riding experience without hurting your back after a long ride. Now that you cleared out where should I sit on my bike saddle, it's critical to pick a good bike saddle for your bike.
You should aim for a moderately soft saddle, and that'll be the best bet for you. Also, the materials used in the build plays a super important role, which determines the longevity of the seat. So, you can also make a bike seat cushion for a better experience.
Also, you should be looking out for extra features that are functional such as waterproof, anti-slip, etc. These features help to provide you with the best riding experience that you can ask for and these are something you should always be looking for in your bike saddle.
However, there's a lot of options available in the market when it comes to a bike seat and not all of them are comfortable for you. To help you pick a good quality one, let's check out the best bike saddle that you can get for your money from the market. Also, if you are having a baby and searching for the safest baby bike seat to share your trip with him/her, you can undoubtedly check my latest review.
BLUEWIND Memory Foam Waterproof Bike Seat
Bluewind has some of the best ranges of bike seats available in the market that emphasizes mostly on comfort level more than anything, and definitely are super affordable compared to all the other options available out there. This memory foam waterproof bike seat is definitely a perfect pick for your bike if you are concerned about making your long rides comfortable and painless.
It's made with super durable materials that don't compromise the softness and provide the best riding experience for you. The seat is completely waterproof and that makes it super functional and hassle-free.
So, if you're looking forward to changing your bike saddle with a great comfortable one, this is a no brainer option for you without any doubt.
Pros
Easy to install
Soft and comfortable
Super durable
Cons
Additional Tips
Now that you went through where should sit bones be on saddle and a good quality saddle that can provide you with a super comfortable ride, it's time to check out some extra tips to make your journey even better. These are simple to follow tips but can revolutionize your experience magically.
So, let's check out some of the additional tips that you should follow when you go out and decide to hit the road with your bike
It's always the best idea to ride in a more upright position while you are riding on your bike. That'll take the pressure off of your backside and evenly spread it on the bike, making it less painful on the sit bones.
Try to ride out of the saddle as much as you can to avoid putting unnecessary pressure on the sit bones. That'll help to provide a better riding experience where there's next to no pain and irritation up there, resulting in a pleasant journey for you.
It's no secret that riding without a heavy backpack is much more relieving than riding with one, and you should take this rule by a rule of thumb as well.
Tilt the front of the saddle ever so slightly to eradicate the cycling sit bone pain one side that many riders suffer.
If you are feeling too much pain in your back, and it starts to feel something's wrong, then probably something is wrong. At this stage, you should rush to a specialist to do a checkup and see if you need to take any special medications or you're dealing with something serious.
To Wrap Up
You just went through an in-depth guide on where should sit bones be on saddle, and how you can improve the measurements for your case.
Remember, sitting through a misaligned seat and posture will definitely cause some serious issues over time, which you really want to avoid. So, it's a very good idea to fix this issue as fast as you can, and that way you won't have to suffer any pain or irritation while riding your bike.